We are Sustainable Tourism Certified with a Gold Rating.
This certification is a bi annual certification process through GreenStep Solutions.  with an assessment and certification of your sustainability measures based upon international standards through the Global Sustainable Tourism Council. The assessment score will determine a bronze, silver, gold, or platinum certification.
Our Bed and Breakfast was the first Bed and Breakfast to be certified in British Columbia in 2015. We started with a Silver Certification.  With each assessment Green Step solutions provides us with an action plan to move forward with our efforts and to increase our score. In 2017 we were able to achieve a Gold Certification. We are only one of Two Bed and Breakfasts with in British Columbia that are Certified with a Gold rating.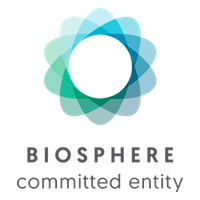 We are a Biosphere Committed Company through the Thompson Okanagan Tourism Association.
Biosphere is a Sustainable Tourism System certified by the Responsible Tourism Institute, an international certification body that maintains a Memorandum of Understanding with UNESCO, is affiliated to the World Tourism Organization, and is a member of the Global Sustainable Tourism Council.
The system is aligned with the United Nations 17 Sustainable Development Goals and the Paris COP21 Accord. TOTA's Biosphere Commitment Program allows tourism industry stakeholders within the Thompson Okanagan to become involved. The Commitment Program follows an annual certification in order to be recognized as a Biosphere Committed Company.
We started our sustainability journey in 2004 when we were introduced to a patented chemical free cleaning system from Austria that cleans below the surface extracting dirt, germs and bacteria and odours. By using ENJO we provide a pure healthy clean, with no chemical residue or toxins, and with zero waste. ENJO is a carbon positive Company. ENJO is proven to clean 6x better than any other chemicals or cleaning system on the market today.
We started by using their world patented bathroom and kitchen fibres and saw very quickly how much time and energy we were saving, along with an incredible savings on purchasing cleaning products. As well, we were not putting any toxic VOCs into the air or putting any harmful chemicals into the waste water. Today we use all their systems throughout our B&B and our home, providing our guests with a guaranteed clean and healthy accommodation. It reduced our plastic waste by 90% by not having to buy bottles of cleaners, and the savings- its about $800.00 per year.
From there we started to look for other responsible cost effective and sustainable products, as well as looked to find ways to save on our energy costs, which quickly became second to food costs. After replacing all lighting with LED lights and some with timers and motion sensors we quickly saw the savings. 
In 2014 we attended a Bed and Breakfast conference where Green Step Solutions did a presentation on how to "green" your business. Their certification process seemed like an obvious choice to us and we haven't looked back.
Today sustainability is at the heart of our business and we strive to continue to work with those suppliers, tourism operators and businesses that have sustainability at the top of mind in their business ethics.
To provide you with a quality B&B experience while maximizing our continuous efforts on being a Certified Sustainable Business.
We have signed the Sustainable Tourism Pledge, to demonstrate our commitment to improving our sustainability performance.
Sustainable tourism is defined as "tourism that takes full account of its current and future economic, social and environmental impacts, addressing the needs of visitors, the industry, the environment and host communities."
Be a sustainable traveller – sign the Thompson Okanagan Pledge here.
Read more about our goals, and the partnerships we have created here.
Want to travel more sustainably? Visit these travel sites for more sustainable tourism businesses:
We respectfully acknowledge that we live, work and play on the traditional unceded territory of the Syilx Okanagan Nation.