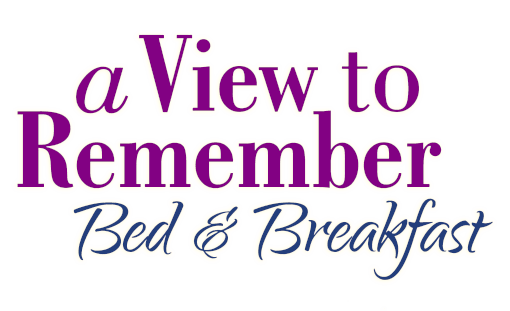 Convenient. Private. Lovely.
Ever wish you had a friend with a comfy home on a beautiful hillside in the Okanagan Valley?
One who knows the best local restaurants, wineries and attractions?
Well now you do.

A Warm Welcome to A View to Remember Bed & Breakfast!
Set in a quiet, convenient location just off the wine route and within minutes of the Okanagan Valley's world class wineries.
Our award-winning B&B offers the perfect base from which to explore the stunning Okanagan Valley and the attractions of West Kelowna, Kelowna and area.

Good Morning! Your Breakfast is ready!
Flexible breakfast times means you choose the time most suited for your travel plans or holiday. Choose a time between 7:30 and 9:30 and we will have a delicious home made breakfast ready to serve you!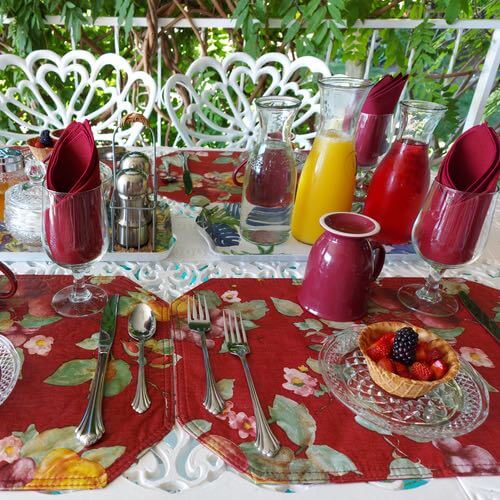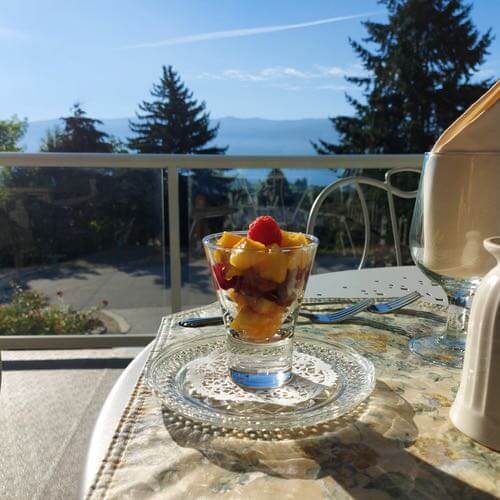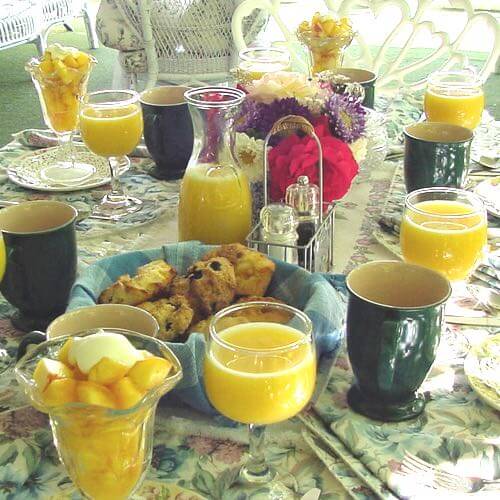 A View to Remember Bed & Breakfast is quietly nestled in picturesque West Kelowna, yet just a glance away from West Kelowna's much celebrated Westside Wine Trail.
Lounge on our spacious deck and enjoy generous guest amenities. You will soon realize that A View to Remember combines the comfort of home with the best of Okanagan living. Wrap yourself in this haven of blue sky, shimmering lake and vineyard views.
We had a wonderful time! Sue and Dan were remarkable hosts. They welcomed us with a glass of wine and joined us for some great conversation . We loved... read more everything about our exceptional experience. The beautiful garden, and the view left us in awe. The suite was very clean and the bed very comfortable. We had the best sleep ever. They didn't miss any details and had many great treats in the room - from coffee to tea to apple cider and great necessities like sewing kit, bandaids etc. Delicious breakfast that included fresh fruit from their garden and remarkable homemade biscuits and yummy egg dishes and apple French toast - all served on the terrace. We definitely recommend their place to anyone. We will be back next year with two other couples so that they can experience their great company and amazing B & B! See you next year Sue and Dan and thank you for the great hospitality ! Maria and Jim

Maria Delvecchio


A View to Remember has a beautiful view of the Okanagan Lake along with comfortable accommodation and very welcoming hosts. The breakfasts are always tasty, so don't forget to stop... read more by here if you're in Kelowna.

Keenan Roytburg


This was our second stay with Sue and Dann, staying July 26 - 31. Again superb location, wonderful breakfasts and great conversations on the patio. We highly recommend this B&B,... read more and this is our goto place whenever in Kelowna. Thanks again Sue and Dann for making this holiday so great!!!

Rick Chorney


We loved our stay with Sue and Dann. They were so kind and generous. It felt like a visit to a friends' house. The accommodations and the breakfasts were superb.... read more Thank you. We'll be back.

Rina Gembom


Loved my stay with Sue & Dan! I was in Kelowna for work and their place was quiet, clean, and the garden is relaxing retreat. The breakfasts were delicious and... read more the gorgeous patio view is a great way to start a morning or wind down a day.

Beth McD

We respectfully acknowledge that we live, work and play on the traditional unceded territory of the Syilx Okanagan Nation.